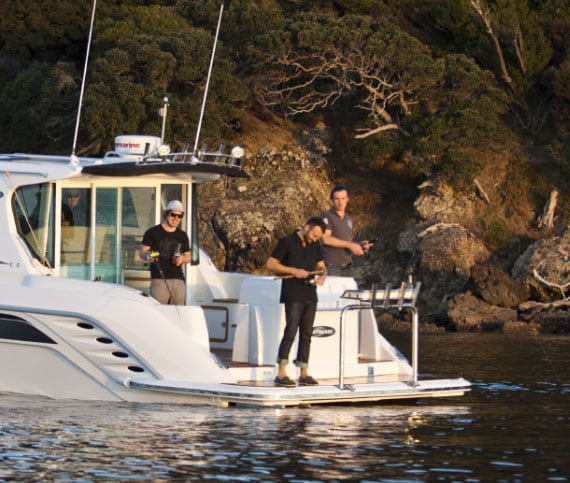 Editorials
---
WHAT EVERYONE ELSE HAS TO SAY:
"…The most convenient and hassle free way to enjoy your boating activites."
I have been involved in the Ownaship scheme for a couple of years now and based upon my experiences during that time, I would have no hesitation in recommending this scheme to anyone as the most convenient and hassle free way to enjoy your boating activities. Joining the scheme with a share in Ten Percent (Rayglass 2500) back in early 2008, myself, friends and family have enjoyed many days and the occasional overnight adventure on this fantastic boat in and around the Hauraki Gulf. 
READ FULL TESTIMONIAL
Once I heard that the guys at Ownaship were looking to expand the fleet and include the flagship of the Rayglass range, the very impressive 4000 model, I didn't hesitate in putting my name forward as an interested party in this new boat. After much negotiation (with the wife), a seamless transfer of my share in the 2500 to a new owner was completed and I took a share in the 4000 before launch date in November 2009. Since then we have had some magnificent days away in this stunning boat, from day fishing trips around the harbor, to week away trips with all the family to Great Barrier. Even full on 6-day diving and fishing trips with 5 guys on board was no problem on a vessel that not only performs outstandingly but also has the comforts you would expect only in a much larger boat. Match this with the service and assistance that Lachlan, Simon and the Ownaship team continue to provide, I can't think of a better way to enjoy all the benefits of a fantastic late model vessel, without having to worry about all the usual drawbacks associated with boat ownership like Maintenance, Cleaning, Storage, Insurance, etc.
Wayne Guiney
"I highly recommned this method of boat ownership"
Ownaship is a fantastic way to go boating. I get loads of access to the boat and lots of technical and friendly advise from Simon. I highly recommend this method of Boat ownership. Simon runs a truly professional business and he is always keen to help.
Gary Smith
"Freindly and efficient"
Friendly and efficient. The system works very well, with great boats!
Jeremy Moon
"…the best boating experience possible. you will not be disappointed".
I first meet Simon Barker and the Ownaship concept at the boat show where they were showcasing their new Mustang. I had been day dreaming about owning a large boat for some time. There are a few "shared" boat operations out there, but the fundamental and unique appeal of Ownaship to us was that you have an actual equity position in the boat, without the concerns and direct costs associated maintenance, insurance, berthage, etc. It is truly walk on and walk off.
READ FULL TESTIMONIAL
Simon, Lachlan and their team genuinely go out of their way to make your boat experiences enjoyable and hassle free. You will not get bogged by bureaucratic rules. They manage to achieve a great balance of professionalism with personal and friendly attention. I can honestly say that the very things I hoped to get from this programme have been delivered. Our family thoroughly enjoy spending several days away on a modern, new boat, and with Ownaship we get the best boating experience possible. You will not be disappointed.
Grant Sewell
"Top notch!!!"
I own a fraction of a boat called Fraction with these guys. Top notch!!!
Doug Chetwynd
"…We are delighted to be part of Boat co and ownaship".
Allan and I love the boat and appreciate everything Lachlan is doing to make our boating experience as enjoyable as possible! May we take this opportunity to thank you all so much for all you have done, we are delighted to be a part of Boat Co and Ownaship.
Elisa and Allan
"…An exceptionally easy and enjoyable boating experience."
Christine and I are members in the Ownaship scheme and have owned a share in the Rayglass 2500 for almost a year now. We had been looking for some time for a boat that would give us access to safe family boat for cruising around the Hauraki Gulf and were at the point of purchasing outright our own Buccaneer 635 Excess when we literally stumbled across the Ownaship concept. From the moment we stepped on board Ten Percent we knew we had found the boat for us and what a pleasant surprise to find out that we could actually afford a boat of Ten Percent's size and fantastic configuration at less than a quarter of the price of our original choice.
READ FULL TESTIMONIAL
Lachlan and his team go out of their way to make sure our boating experiences are hassle free and it has been this way for us since day one. The convenience and security offered in walk on walk off boating from the Oram's Marine dry stack, combined with a clean and fully fuelled boat ready for us to go every time make for an exceptionally easy and enjoyable boating experience. We have no hesitation at all in recommending the Ownaship concept to any one who is looking for an entry level into an exceptionally well appointed boat without the high capital outlay and maintenance that is required in outright ownership of a boat of similar size. Now …all I have to do is convince Chris that we must upgrade to the new Rayglass 4000 and the wider Gulf and even more comfortable over nighting will be well within our reach. You are most welcome free to call us you want any further information on our experiences as Ownaship members.
Mike and Christine