A revolution in yacht design 
"The X series is a result of an extensive customer focused design and development process from Maritimo's ongoing R&D program and the X60 design makes a statement, whether at sea or at anchor".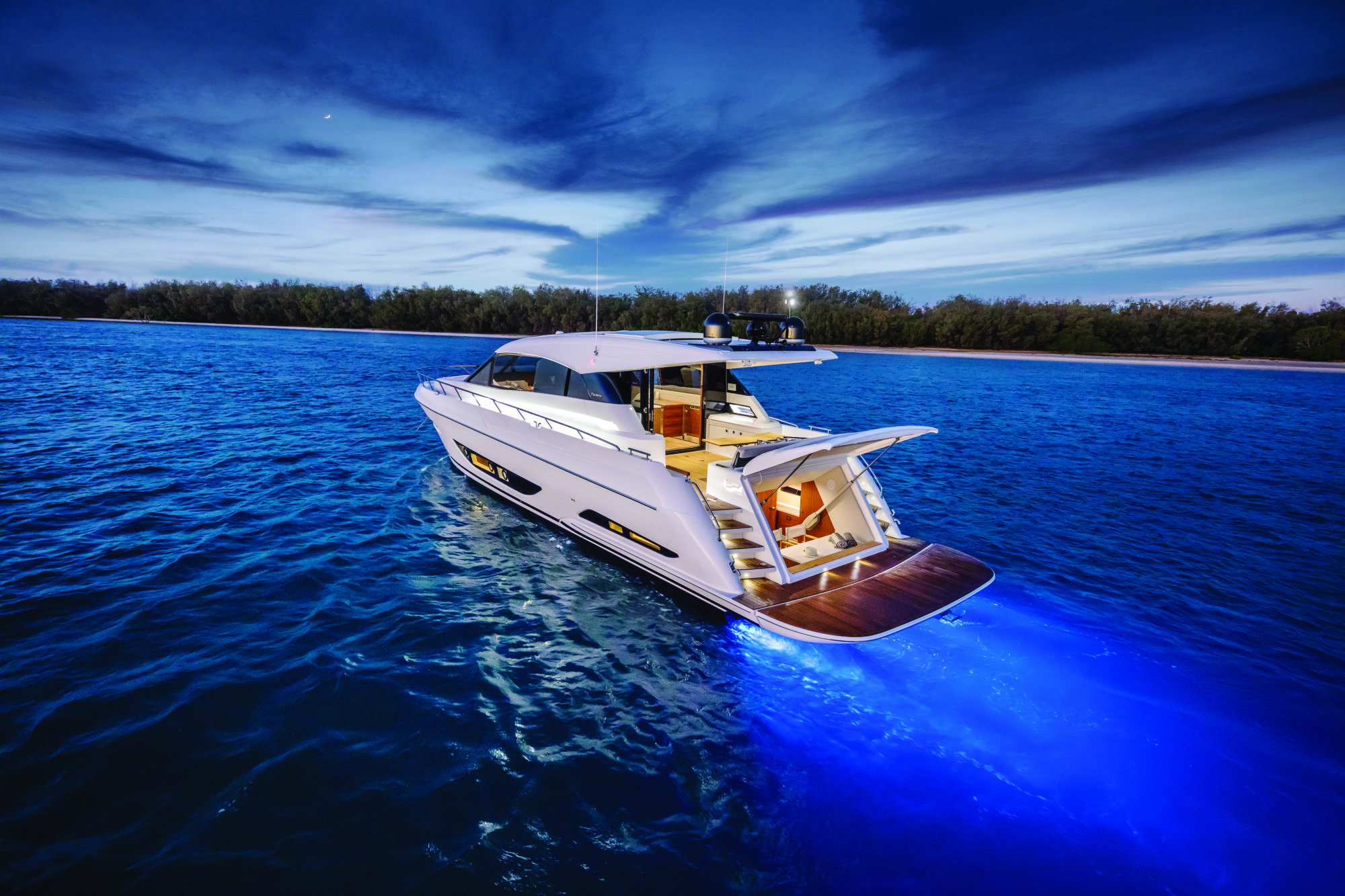 Maritimo will never submit to the status quo. As innovators, we challenge conventional wisdom to materialise new ideas. We see every detail as an opportunity for excellence, and we take no short cuts in our quest to create the extraordinary. A symphonic blend of functionality dressed in powerful form, the X Series is here to reimagine the traditional idea of the conventional sport yacht concept. The result is nothing less than extraordinary.
Maritimo fuses its performance pedigree, bespoke materials and innovative design to create unparalleled boating luxury. With its innovative aft cabin, the X60 is a world first in its class. This reimagined motor yacht announces the new generation of Maritimo design and is an exciting prelude of things to come. The X60 aft cabin gives owners a new level of customisation. With options designed to cater to a range of needs, it is offered in three distinct configurations: a beach club cabana, an expansive tender garage or an additional queen stateroom.
The Maritimo X60 aft cabin revolutionises entertaining on water with a game-changing new 'beach club' design. The cabana flows effortlessly into all areas of the boat, creating constant connections between guests and the sea. Alternatively choose to use the aft cabin as a fourth cabin and experience the comfort of an additional queen stateroom with a private ensuite. Enjoy three-sided panoramic ocean views and the ability to transform the swim platform into a makeshift balcony deck with fingertip control from your bedside.
Built in Australia by leading craftsmen, we are dedicated to crafting a distinctive sport yacht of the highest quality. Stemming from its illustrious Maritimo bloodline, the X-Series inherits the timeless elegance and unparalleled abilities in the water of its long range motor yacht predecessors. Underneath the hand crafted wood, fine leather and clever ergonomics you'll find the best in nautical design that ensures simplicity, efficiency and cruisability. When it's time for deep-water action you'll find Maritimo's racing edge more than meets the demands of the sports and high performance island hopping adventure.
| | | | |
| --- | --- | --- | --- |
| LENGTH OVERALL | 19.42 m / 63'9″ ft | HULL LENGTH | 18.21 m / 59'9″ ft |
| BEAM | 5.21 m / 17'1″ ft | DRAFT | 1.57 m / 5'2″ ft |
| DRY WEIGHT | 30,500 kg | FUEL CAPACITY | 4,300 L |
| WATER CAPACITY | 800 L | HOLDING TANK CAPACITY | 300 L |
| SLEEPING CABINS | 3 Standard 4 Optional | SLEEPING CAPACITY | 6 Standard 8 Optional |
| ENGINES | 2 x Volvo D13 – 800 mhp | GENERATOR | Cummins Onan 17.5kw 50hz |